Customer life cycle management is an important issue for every business selling cloud services. Where there was once traditional solution selling around a large capital item followed by install and management, we are now seeing the consumption of IT as a service driven by cloud technologies. Cloud services are usually billed monthly over a fixed term or open ended consumption agreement, and as a result, the way customers are valued, managed, and supported needs to change. This is the essence of customer life cycle management.
As is often the case however, the technology is sometimes in front of the skills, processes, behaviours, and expectations of those that are providing or consuming the technology. I believe this is exactly where we are today with cloud and XaaS offerings.
Telcos – Been There and Done That
One of the things I learnt during my time working in telco was for an annuity business to be successful, good customer service, and more specifically customer life cycle management is paramount. It is not just about acquiring customers – it also includes retaining them by keeping them happy, correctly billing them and where possible, contracted. In addition to all of this you also want to be building their additional product uptake with your organisation.
In a mature market such as mobile phones and broadband where switching carriers is very easy, the profit potential or customer lifetime value is well understood, as are the tactics to keep them happy and billing. The knowledge and the skills to do this are less developed in the IT industry.
The growth of XaaS and cloud related services is still in its infancy, but this rapid growth or "land grab" for new billing customers won't go on for ever. Retention of the base will therefore become more important.
The telcos know that unhappy customers and churn is the cancer that kills your revenue target. Customers churn for a variety of reasons including the following:
• They are unhappy due to service incident.
• They do not see current value in the service being offered.
• They feel "unloved" by the service provider.
Additionally customers that churn or defect quite often only have a single service or line of business with the provider and this makes it easy for them to move on if they are dissatisfied.
Billed Revenue = Base Revenue + New Sales – Churn
Right now, it is not easy to move a workload from one cloud provider to another, whether it be public, private, or hybrid. It is however getting easier with new vendor offerings and tools being continually released. While churn or customer defection is not a significant factor today for the channel, in 12-18 months it most likely will be, just as it is for the telcos today.
There are three simple things that an organisation can do in order to reduce churn or customer defection. These are as follows:
Initial bundling of products at the time of sale to create greater value and relevance.

Cross selling to introduce additional products. The risk of churn is inversely proportional to the number of billed products i.e. 1 product will have high churn vs 3 billed products which will be quite low.

Proactive customer contact including re-contracting processes.
Churn reduction is an important and integrated component of a successful customer life cycle management strategy, but it is not the only component.




Customer Life Cycle Management Approach
Customer life cycle management is an integrated approach that recognises the long term value of the customer to the organisation. Therefore, it is focused on all interactions between the company and the customer. This is to ensure the customer's needs and expectations are met (or exceeded) to maximise their consumption of the company's offerings.



Companies that have successfully grown their annuity revenue and customer base realise that it is not just as simple as implementing cross sell marketing campaigns, or customer service initiatives. Rather it is a holistic internal and externally focused discipline.This covers all phases of customer interaction with the company such as sales offers, purchasing, provisioning, billing, support, cross selling, and of course re-contracting.



Channel Dynamics has developed its Dynamic Customer Life cycle Model TM to help guide organisations through the 4 step process.

Assess
– Ensure the customer has the right fit of product or services for their needs.

Deliver
– Get the provisioning and associated service points correct and in place.

Manage – Make sure the product performs and meets customer expectations.


Adjust

– If the need or the opportunity arises, fine tune the offering over time.
Dynamic Customer Life Cycle Model ™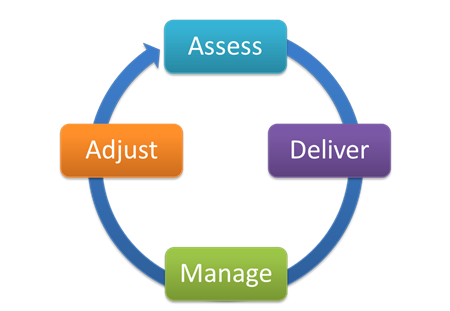 This is not a linear process but a continual journey recognising the long term value of the customer to the company, not just for the first or one off sale.




In a typical CapEx based or perpetual sale the channel is familiar with, the process is quite "lumpy" around either technology refresh cycles or accounting depreciation cycles. Once the customer has (paid for) the product then the only real opportunity for channel profit is management of the product until the next buying cycle.
In the annuity world, the service or the engagement could potentially go "forever". The second and third sale of an additional service is as important, if not more important than the first for two reasons.
Firstly, it is easier and less costly to sell something to an existing customer who is already satisfied with your product and service.
Secondly, as mentioned, for each additional billed service, the risk of churn or defection reduces. Customer life cycle management is not just about protecting the actual billing product but about unlocking the true long term potential of the customer.
Depending on the type of annuity service offered there are some critical customer life cycle points or interactions that should follow each other to make sure the customer is satisfied. The following is an example and is colour coded by the type of activity i.e. Assess, Deliver, Manage, or Adjust.






Usually the very first interaction a customer has with a company will be with one of the sales representatives. Therefore having the sales people being able to correctly Assess what is right for the customer, and communicate the processes of onboarding and/or provisioning, is critical. This usually is a different sales skill set compared to selling CapEx or perpetual products as it will require product, operational and some financial knowledge.
The operational phase of setup, provisioning and billing after the initial sale is also critical to get right. This is because it will set the tone for the ongoing experience in the mind of the customer. What the sales person has promised the customer now has to be Delivered by someone else within the organisation.




Therefore, robust, scalable, and repeatable processes that match what was promised are essential. This phase is also the start of a proactive communication strategy to head off problems before they escalate. For example, is the service going to activate on time? What will be on the first bill? Sending an incorrect first bill is generally not a customer endearing interaction!



The next phase is Manage, which means ensuring the customer is happy, that the service performs as promised, and dealing with any operational issues such as service disruptions. Again, we make the point about being proactive with the customer by communicating and informing them when things go wrong, rather than hoping they won't notice. Remember, it is not just the single effected product at that point in time, but also the lifetime potential of that customer across the company's entire portfolio.
This means from time to time the company may need to Adjust the service if necessary to ensure there is continual fit for the customer's changing circumstances. Sometimes this may mean being flexible and ending one product and swapping to another, as well as looking to find if there are opportunities via cross or up sell.
Earlier we mentioned that sales people may need to be re skilled in order to better align to annuity and an integrated customer life cycle management approach. The same goes for other departments or functions within the business. Try if possible to separate the sales function from the support and feedback functions. People don't like being "sold to", but do want to know what their options are.
Conclusion and Tips
Customer Life Cycle Management is a systematic approach that looks to keep the customer satisfied, billing and growing in value over time. My top tips for achieving this are:
Systemise and automate as much as possible, especially provisioning & reporting.

Use analytics to assist with mining relevant customer usage information.

Ensure sales compensation schemes are aligned to both new sales and churn reduction.

Be proactive, not reactive in recognising the long term value of the customer to the business.

Have specialist outbound customer life cycle management people with retention or non sales KPIs, as well as a specialist sales or support function.

Train your all of your staff about the importance of customer life cycle management so that it becomes part of your company's DNA.