I recently had the privilege to attend the ARN roundtable discussion where Dell and Intel were the key sponsors, and so much was discussed about the development Dell's channel engagement and program.
While there was robust discussion amongst the participants about Dell's (and other vendors') engagement, the conversation actually began with the changes in customer behaviour and therefore what changes the partners had to adapt to.
Our core channel framework – the DynamicDSI model – reflects our belief that everything begins with the customer, and that a successful partner is a reflection of the needs of the customers they serve or are targeting.
Sounds simple, but in reality this is much more complicated. Two examples that may explain this concept a bit better.
Partner 1 is targeting mid market customers (250-1000 seats). Typical business issues these customers are facing (according the group attending the roundtable) include things such as being able to access and analyse corporate or customer data more efficiently, improving productivity with mobile or cloud based applications, pressure from the business around BYOD expectations and of course, a range of security issues that these pose. All in the context of reduced IT capital and operating budgets.
When Partner 1 is looking to engage with this customer around solving these business issues, there are a range of technologies that they could look to deploy or implement that can help solve these problems, such as virtualisation, cloud in any of its variants, analytics, storage, archiving and de-duplication solutions, as well as security around web, UTM or even DLP etc.
Partner 2 is also targeting this same customer but they see the customer in a completely different light. They see the customer as an informed consumer of IT hardware and software that, due to operating cost and profit pressures, are looking to purchase selected IT products at the lowest possible price. Notice I did not use the word cost here, as the overall product cost would need to include a range of other services such as installation, support etc, which someone still has to do.
Simplistically, Partner 1 is essentially a differentiated VAR, and Partner 2 could well be a low cost e-tailer (or even Dell).
Choose Your Strategy
Both partners' views of the customer are of course valid. However before engaging with the customer, each partner needs to make a number of critical business choices about their own business first, and then stick to it. You cannot be a low price reseller with high operating costs.
These two choices of corporate strategy were first put forward by Michael Porter in 1985 as being low cost or differentiated. Fast forward to 2012 and from what I heard at the roundtable, this is still being played out today by both Dell and its partners.
Use this simple tool to map/plot where your business is as well as where you believe your direct competitors are on either of the two arms of either creating Value Add or Low Operating Costs. What can you observe or publicly obtain information that provides clues to their position?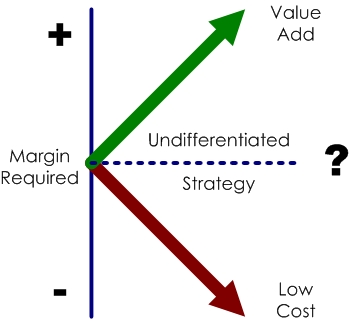 However Porter was also clear that you can't be both low-cost and value-add on a sustainable basis, as they are competing strategies requiring very different structures and brand positioning. This is when you are "stuck in the middle" with no clear strategy but end up with a mishmash of competing value propositions and unaligned costs.
In short we would argue business strategy first, vendor selection last, not the other way around.
Therefore if you were Partner 1, first start by identifying the target customer and how will you create a differentiated or value add position, what services will you offer, which leads to the necessary skills required, then onto the basic business model (cost/profit) and then lastly selecting the vendors that fit into this vision and the business model requirements.
This also applies to Partner 2, but their internal discussion is primarily about reducing costs (to keep margins and prices low). The focus here would be about gaining efficiencies around automation from the customer facing web site through to integration with their supply chain, as well as what services they will not offer, to build a compelling position in the customers mind of what to expect. Therefore distributor selection will be more critical to support their low cost business model with the required range of vendors and products, than just vendor selection alone.
Vendor Alignment
There was also lots of discussion about Dell still selling direct to the (read "the reseller's") end customer. No partner has an unending or exclusive right to sell anything to a customer – it needs to be earned and continually reinforced by customer engagement that is consistent with their expectations.
Another way of looking at it from a Channel Dynamics perspective is:
Price willing to be paid by the customer = Cost of Goods + Perceived Value
Dell has been selling direct around the world for many years. However in more recent times they have started to embrace the channel and invested heavily in people and programs to grow the volume and value of products sold via partners.
Customers know Dell will or can sell directly to them, therefore any partner looking to work with Dell should be under no illusion that Dell immediately ceasing to do this is never going to happen, even though Dell has committed to developing its channel.
A number of the partners present were leveraging Dell's low cost hardware supply chain model, but maintaining good margins by adding value around services and integration within the customers' environment to create a solution that was a differentiated customer value proposition. Their competition was not (always) Dell, but usually alternate resellers with alternate vendors.
Which Vendor
Vendors generally are very clear of what they offer a prospective partner in terms of products, programs, requirements etc. However choosing the right vendor to partner with is a big decision and should be made by more than just assessing the current "hot" product offering.
Therefore again we would suggest the starting point for a partner selecting a vendor should be to have a clear understanding of how they fit into and complement your selected value proposition.
Vendor Check List
The market is constantly changing with IT products continuing to move though the product lifecycle and becoming more mature. Therefore what was once a complex high margin product that required configuration and integration can now be "self installed" with little value add from the partner.
Finally vendor selection and product alignment by the partner around their chosen vendors should be a continual review and assessment process to see if there is still alignment between the partner's business strategy, vendor/product portfolio and the target customer's needs.
Here is a quick check list for partners to assess vendor alignment:
Vendors targeted customer sweet spot
Brand positioning and customer perception
Technology maturity (product lifecycle)
Vendor channel strategy depth vs breadth
Program benefits and requirements
Profit opportunity after program requirements
Complementary vendors, products or services already in place
People and processes to support the partner