Author: Ian Maclean
Over the last few years, Channel Dynamics has conducted many research projects around understanding problems relating to the partner ecosystem. In many instances, the research highlighted that vendors were not focusing enough on recruiting the right partners, or that partners were being on-boarded in a haphazard manner. In other words, anyone could join the partner program and partners were largely left to their own devices. We highlighted the dangers of "collecting" partners rather than "selecting" them in a previous article.
The focus of that original article was based on building a channel for a "Value" vendor looking at recruiting VARs. The purpose of this article however is to explore the process of building a channel for a "Volume" vendor. Do the principles of Selection and Collection apply for Volume vendors, or are there are other factors at play? In order to understand this issue more clearly, it is worth revisiting how we define channel success.
Our definition of the effectiveness of a channel is framed around the Channel Dynamics Channel Success Model. In this model four variables had to be aligned to the target market for partnering to be effective.

For Enterprise, Mid-Market, Vertical and new technology markets, this often resulted in very specific profiles and criteria for selection. These partners needed to have the capabilities, commitment and product knowledge to be able to sell and support the products whilst also making money for themselves.
However, there are good reasons for having a partner breadth program. This is especially true when you supply into the SMB and Consumer markets. Volume Vendors need to do it differently!

The Product Lifecycle
The need to consider a channel breadth program is illustrated in the diagram below. As products and technologies move along the product life cycle, prices and margins tend to decline, volumes increase and the purchase decisions for end users and businesses gets easier. Volume Vendors need to ensure that their channels and partners are aligned with where the 24 Million consumers and 900,000+ small businesses are researching and buying their products from.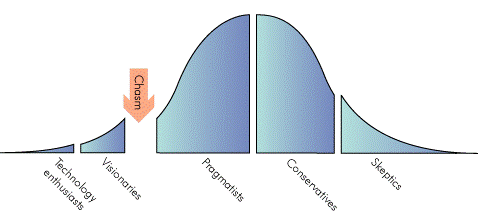 Attributes Of A Successful Volume Partner Program
The biggest challenge a Volume Vendor will face is the variety of channels that can take their product to market. It is easy to lose control of your Brand and product when a distributor is introduced and when the channels now include resellers, shop fronts, retailers, VAR's, online stores and catalogues.
The business fundamentals hold true for each these channels, they buy product or services to sell quickly, easily and profitably. They do not buy it because it is the best, fastest or latest technology!
Volume Vendors need to understand the business models of each of the different channel partner types and implement an engagement strategy which aligns and rewards a broad cross section of these partners. Some key program attributes are:
Pricing and Profit Strategies
I am continually surprised by vendors who do not look to understand the dynamics of pricing and profit on vendor attractiveness and Brand perception. Smart vendors will have a retail price strategy that will reward partner value add rather than leaving it in the hands of distributors or partners.
Marketing – Ease of Engagement
The vendor needs to provide tools and systems that make it easy for resellers to keep updated with the latest information and news. Simple portals, pro-active newsletters, one to many events and consistent messaging should allow vendors to create "small" relationships with the partners. Remembering that these need to work seamlessly with and through the distribution partners.
Support and after sales service
Again the emphasis needs to be on making things easy and taking the work out of things for the partner. Using technology and designing effective processes offer many advantages to smart vendors.
Supply Chain and reverse logistics
It should go without saying that the product needs to be available on demand as it is often part of a bigger sale. If the product needs to be returned make sure there is an easy repeatable process for the partner, distributor and end user to utilise
Brand
Gaining Brand equity and recognition with channel partners is equally as important as gaining it with the end customer. Many of these partners are trusted advisors to their customers especially in the SMB space.Remember there are over 6,000 resellers and partners on the books of the major distributors, so Volume Vendors need to work smart, understand the big picture and put processes and systems in place to support and engage with them.
Oher Considerations
Australia has it own unique channels. Today many local vendors are subsidiaries of US vendors and can be influenced by US business practices. Whilst the product life cycle is common, I believe that Australian vendors need to be more sophisticated about their go to market strategy. This is because Australia has a more vibrant channel community with a wider variety of channels than the US market.
And of course there will be times when you will want to select some key partners. While volume vendors typically have a programmatic, low touch model to engage with the broad channel, they may also evolve the program to allow increased support for partners who add value to the sales process. In the past this value was typically in the form of volume (regardless of how this was achieved). Today even volume vendors are aligning with partners who truly add to the sales process.
Conclusion
In today's mature IT/Consumer Electronics market, vendors who execute best with the broad volume channel will have a significant advantage over those that do not. In addition, new technologies such as 3D printing and cloud based traditional products are moving along the life cycle curve and will need to engage with the volume channel very soon.
Steve Job's quote around the "Complexity of Simple" is something that all volume based, channel aligned organisations should hold as their core ethos.
"Simple can be harder than complex: You have to work hard to get your thinking clean to make it simple. But it's worth it in the end, because once you get there, you can move mountains"
Channel Dynamics have the experience and skills to help you develop your volume partner engagement strategy and volume partner programs and would welcome the chance to work with you. Contact us for a free consultation!